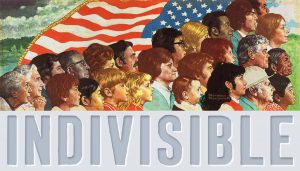 Dear Fellow Members of the American Solidarity Party of Ohio:
I am sure you have heard in the news or have seen on Facebook scenes from the tragedy that occurred in Charlottesville, Virginia as white supremacist groups were holding rallies and demonstrations opposing the removal of a monument that was erected in honor of Robert E. Lee, the leader of the Confederate Army during the Civil War. The truth about this monument is it was erected in a public space and is not representative of the ideals of this country. The United States of America is "one nation under God, indivisible, with liberty and justice for all."
According to World Council of Churches (WCC) general secretary Rev. Dr. Olav Fykse Tveit:
"Terror and violence against peaceful people seeking justice in Charlottesville must be condemned by all. We are proud of moral leadership by clergy and lay people standing against this promotion of racism and white supremacy. We stand in solidarity with those who continue to use nonviolent means to work against racism and extremism."
It is evident that the events that took place on Saturday were fueled by the ideology of the neo-Nazi movement. James Fields Jr., the Ohio man who is responsible for driving his car into a crowd of protesters was "infatuated with the Nazis" years before Saturday's events.
According to James Field Jr.'s high school teacher:
"A lot of boys get interested in the Germans and Nazis because they're interested in World War II. But James took it to another level. He was very infatuated with the Nazis [and] with Adolf Hilter. [James held] radical ideas on race."
If you too think racism has no part in this country, DONATE NOW to the American Solidarity Party of Ohio to show your support for EQUALITY!
In order to help the American Solidarity Party of Ohio (ASP-OH) in this time of need, you can send a gift of any amount to the following address:
American Solidarity Party of Ohio, LLC
P.O. Box 64
Tuscarawas, Ohio 44682
At this time we can accept cash, checks, and PayPal donations. Please make checks payable to American Solidarity Party of Ohio, LLC. The email address for our PayPal account is aspohio@gmail.com. At the minimum, we would recommend that members of the American Solidarity Party of Ohio, LLC contribute at least $10.00 USD. We should note that making a donation to the national American Solidarity Party (as requested by Brian Lester in a separate email) is different than donating to the American Solidarity Party of Ohio as we will use the funds directly to support the American Solidarity Party in our state, where we live.
"We believe in the vigorous enforcement of civil liberties enshrined in the Bill of Rights. We believe that the persistence of unjust discrimination in our society must be acknowledged and addressed. The state has a role to play in protecting marginalized groups from unjust discrimination and should pay particular attention to the effect that policy proposals will have on vulnerable and marginalized groups." – American Solidarity Party on Civil Rights
We will be discussing how to act on our beliefs about this plank of the ASP platform at our next annual meeting will be held at 1:30 PM EDT on 21 October 2017 at the Carlisle Inn in Walnut Creek, Ohio, U.S.A. (semi-formal attire is recommended, guests are welcome and encouraged to attend) and ask that you join us there too!
Thank you for your support! May God bless you!
Sincerely,
Brennan M. Baker, OSL
Treasurer
American Solidarity Party of Ohio
____________________________
Email: aspohio@gmail.com
Phone: 330-407-1638
Fax: 425-871-4460